Photo Galleries
ATV Photos
Balloon Festival
Bryce Canyon Photos
Cedar Breaks Photos
Fishing Photos
Grand Staircase Photos
Kodachrome Basin Photos
Panguitch Photos
Panguitch Lake Photos
Quilt Walk Photos
Red Canyon Photos
Scenic Drives Photos
Historic Brick Home Photos
Panguitch Event Photo's
Panguitch Wildlife
Schedules: Landfill, Library, Social Hall, Water/Secondary Watering
 New Waste Management
Large dumpsters are now located outside the fence at the Panguitch City Landfill for unlimited access.   There are three large dumpsters with one for construction, demolition materials, and wood furniture, one for mattresses, appliances, and scrap metal, and one for grass clipping, limbs, and yard waste.  All household garbage must be placed in the dumpsters located in the Industrial Park.  Cameras have been installed and are monitored.  Please do not dump on the ground.
Panguitch City Landfill:
This landfill can only accept tree limbs, grass clippings, furniture, mattresses, demolition materials and construction materials.
No hazardous materials, paint, batteries, tires, or household garbage.
NO CHARGE FOR CITY RESIDENTS OR NON CITY RESIDENT FOR A
FULL SIZE PICKUP OR SINGLE AXLE TRAILER LOAD OF THESE ITEMS ONLY
GREEN WASTE, METAL, FURNITURE, MATTRESSES.
CITY RESIDENTS OR NON CITY RESIDENTS WILL BE CHARGED FOR:
DOUBLE AXLE DUMP TRUCK $30 PER LOAD FOR ALL ITEMS
SEMI LOAD DUMP TRAILER $60 PER LOAD FOR ALL ITEMS
CONTRACTORS DOUBLE AXLE DUMP TRUCK $30 PER LOAD FOR ALL ITEMS
CONTRACTORS SEMI LOAD (18 WHEELER) $100 PER LOAD FOR ALL ITEMS
HOURS: (Winter/Summer hours change on Daylight Savings.)
SUMMER – TUESDAY, WEDNESDAY, THURSDAY, FRIDAY 1:00 PM – 5:00 PM
SATURDAY 10:00 AM – 5:00 PM
WINTER – WEDNESDAY 3:00 PM – 5:00 PM
SATURDAY 10:00 AM – 12:00 PM
OTHER TIMES AVAILABLE BY APPOINTMENT 435-676-8375
Panguitch City Library: The Library at 25 S 200 E is open from 1:00 pm to 6:00 pm on Monday, Wednesday, and Friday.  It is open from 1:00 pm to 7:00 pm on Tuesday and Thursday.
Social Hall: Social Hall keys are available to Panguitch residents for a $20 nonrefundable fee.  You may exchange your old key for a new key.  Those who wish to obtain a key must sign a contract that minors (anyone under 18) will be accompanied by an adult when using the Social Hall.  Failure to follow this policy will result in the forfeiture of your key.
Secondary Water:  Secondary water users, the city is asking residents to water residential yards during the week, Monday through Friday, and for those with pastures, to water only on Saturday or
Sunday.
If your home address is an odd number you will water on odd days of the month. If your home address is even, you will be able to water on even days of the month. Pastures on the west side of the main street in Panguitch City will water on Saturday and the east side water on Sunday. Pasture watering days switch each year. In order to maintain sufficient pressure in the system, no pastures should be watered during the week and no residential yards should be watered on the weekend. If you notice someone watering out of turn, we ask you to be kind and continue to set a good example for others. If you notice a chronic problem of watering out of turn, please report it to the city office. In the past watering out of turn has been a problem. Those watering out of turn will be subject to the following penalties:
1st time – verbal warning
2nd time – $25 fine to be paid before your next watering turn
3rd time – $100 fine to be paid before your next watering turn
4th time – secondary water will be capped
Another issue is watering with too many sprinkler-heads at one time, or the size of the head too large. The city has the following rules regarding sprinklers:
a. No more than seven sprinkler heads going at one time, these are small sprinklers used in home sprinkler systems.
b. No more than 2 field sprinklers going at one time. If you have large heads on a line, now more than one line going at a time.
c. NO OPEN HOSES. This has always been the case since the system was built.
d. USU extension office shows in many cases we are over-watering our lawns. If you don't need the water, shut it off.
Outdoor Culinary Water Usage: You have 12,000 gallons of culinary water per month included in your culinary water service, any water used beyond the 12,000 gallons is charged at $1.00 per thousand gallons. If you use culinary water for outdoor watering please note these rules:
a. no culinary(drinking) watering between 10:00 am and 6:00 pm.
b. no pasture watering with culinary water.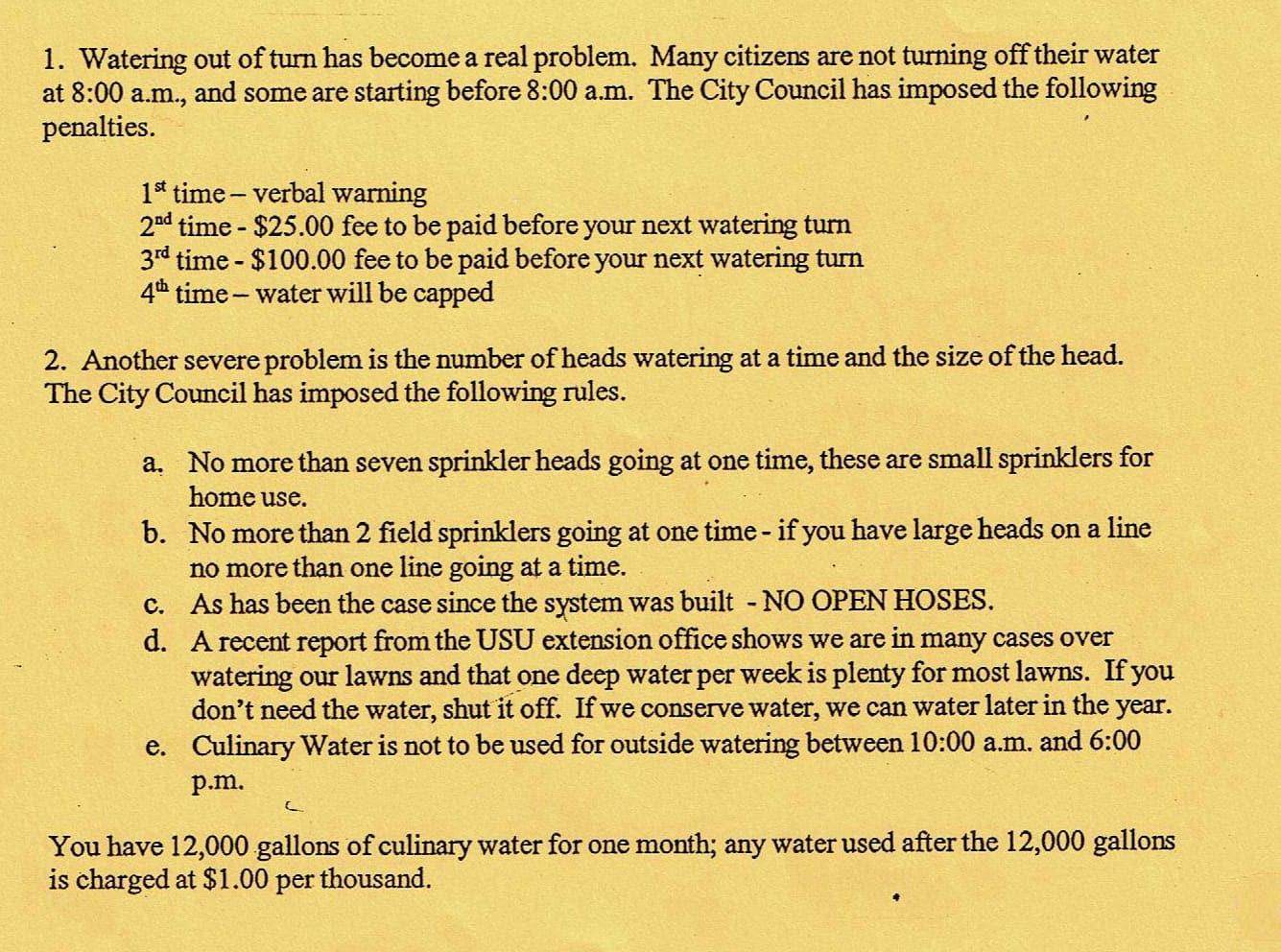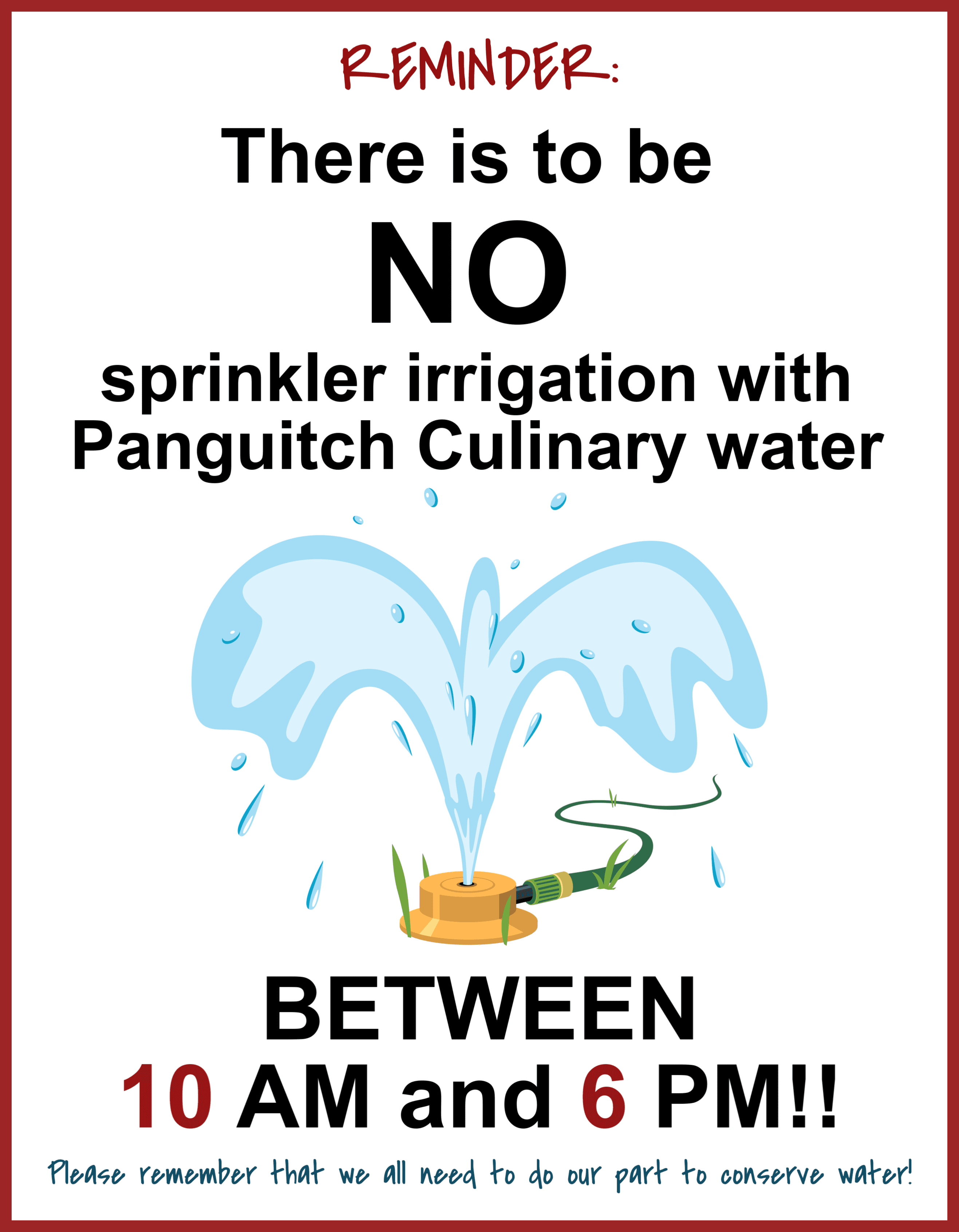 Water / Sewer Payments
Government Links
Utah League of Cities and Towns
Community News
EMPLOYMENT OPPORTUNITY
PANGUITCH CITY MANAGER
Panguitch City is accepting applications for the position of city manager. The city manager is responsible for managing the day-to-day operations of the city, overseeing all city departments, programs, and services, and providing leadership and guidance to city staff. The ideal candidate will have excellent communication and interpersonal skills, a strong background in finance and public administration, and a commitment to serving the community. A degree in public administration, finance, or equivalent experience acceptable by the City Council is required. The successful applicant must live within the Panguitch city limits or relocate to Panguitch City within three months. This is a salary position with a benefit package. The minimum salary is $65,000 annually, but the salary range is open and dependent on qualifications and experience. Panguitch City reserves the right to reject any or all applicants, and to waive any requirements set forth in this announcement. Applications will be accepted until 5:00 pm on November 9, 2023, at the Panguitch City Office, 25 S 2OO E, PO Box 75, Panguitch, UT 84759, or by email at panguitchcity@panguitch.com
Street Light Maintenance
We are currently performing maintenance on all the streetlights. Please inform us if you have noticed any streetlights that are not working or ones that remain illuminated during the daytime. To report a street light, fill out form Here.
Notice of Municipal 2023 Election Day November 21, 2023
City Wide Clean-Up
Scheduled to take place May 9th through 15th, 2023.  If you have items you would like picked up for disposal, please call the City Office at 676-8585.
Summer Events and Activities
There are events all summer long in Panguitch.  The fun begins with a giant yard sale on Main Street Memorial Day weekend and the annual Quilt Walk Festival the second weekend in June.  The Panguitch Valley Balloon Rally is held the last full weekend in June, followed by a truck show, fiddlers festival, Pioneer Day celebration and rodeo, ATV rally, and a car show in September.  Watch the event calendar for rodeos and baseball tournaments throughout the summer!
New Year's Party!
Don't miss the  Panguitch New Year's Party!  This is a fun event for the whole family with games and bounce house toys for the kids and live entertainment on New Year's Eve.
Panguitch Lake "Big Fish" Derby
Looking for some great winter fun?  Come ice fishing at Panguitch Lake on February 4, 2023, and win cash and prizes!  The Panguitch Lake "Big Fish" Derby is for all ages with prizes in both youth and adult divisions.  There is a $20 entrance fee for adults and $10 for kids 12 and under.  
Trek (PDF File)
Panguitch City Council Agenda & Minutes
All minutes and additional council materials can also be found on Utah's Public Notice Website.
https://www.utah.gov/pmn/index.html
Panguitch City Council Meetings
Time: 2nd and 4th Tuesdays starting at 5:30 pm
Panguitch City Forms
Panguitch City Forms
To see a copy of an online form please follow the links below. Forms can be emailed to panguitchcity@panguitch.com
City Hall, Directory & Notices
Certification of the 2023 Municipal Elections
2022 Panguitch City Drinking Water Quality Report
2023 Panguitch City Election Financial Disclosures
Short Term Rental Ordinance 2022-1 
Ordinance 2023-2 Parking Restrictions at PES
CITY HALL
Mayor
Kim Soper – Serving a 4 year term through December 31, 2025
Council Members
Paul Dastrup  – Serving a 4 year term through December 31, 2025                Mark Boshell – Serving a 4 year term through December 31, 2023
Mike Sarles – Serving a 4 year term through December 31, 2023                David Dodds – Serving a 4 year term through December 31, 2025            Tracy Wright  – Appointed to serve through December 31, 2023
City Services
City Manager – Lori Talbot
City Judge – Tim Smith
City Attorney – Barry Huntington
City Recorder – Tyrissa Howell
City Treasurer – Carla Farnsworth
Event Coordinator/Website/Marketing —  Karma Albrecht                               Public Works Director – David Owens
Public Works Maintenance/Asst. Director-Public Works – Kory Owens
Public Works Maintenance – Rick Miller
Library Director – Suzanne Dunham (435)676-2431
Children's Librarian – Verlaine Spencer
City Hall
25 S 200 E
PO Box 75
Panguitch, UT 84759
Phone: 435-676-8585
City Office hours: Monday – Thursday 7:30 am -5:30 pm. Friday 8:00 am- 12:00 pm.  Closed Holidays
City Council Meeting: 5:30 pm on the 2nd and 4th Tuesdays of each month in the conference room of the Panguitch City Office. To have an item placed on the agenda, please contact the City Recorder, at 676-8585 no later than  noon Thursday prior to council meeting.
Zoning Information: Please contact the City Office at 435-676-8585 for information on upcoming meetings of The Planning and Zoning Commission.
City Services:
Utility Department **If you would prefer to receive your water bill via email, please contact Tyrissa at 676-8585**
Business Licenses
Cemetery Information
City Treasurer
Panguitch City Planning & Zoning Commission
Chairman – 
Vice Chairman – Chad Veater
Clint Albrecht
Mat Houston
Tracy Wright
Jeremy Raeszler
Clarence Herron
Alternates:
Lori Talbot