Annual Events and Activities
Quilt Walk Festival
The
Quilt Walk Festival
commemorates the brave men who, in 1864, used quilts to cross the mountains in deep snow and obtain flour to save the starving community of Panguitch.  The festival has something for everyone: a chocolate festival, quilt show and vendors, sewing and quilting classes, dinner theater, parades, games, historic home tours, and a heritage fair.  Join in the fun June 8th-11th, 2022!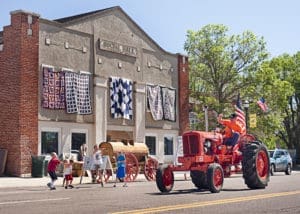 Panguitch Valley Balloon Rally & 5K
Enjoy the seemingly endless Southern Utah skies by taking advantage of the Panguitch Valley Balloon Rally happening June 23rd-25th, 2023, in Panguitch.  Hundreds gather to enjoy an unforgettable scene of colorful hot air balloons as they soar into the open skies above. Saturday night is a balloon glow on Panguitch's historic Main Street. Balloon Rally vendor application found here.
In conjunction with the ever popular balloon rally is the Panguitch Valley Balloon Rally 5K Race. Saturday morning, as colorful hot air balloons rise above, runners can enjoy the views below during near-perfect Panguitch weather. A kid's race is offered afterwards so that everyone can join in the fun!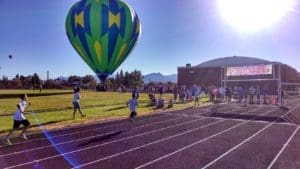 Chicken Lights & Chrome Truck Show
Held on June 3oth-July 1st, 2023, the
Panguitch Chicken Lights and Chrome Truck Show
is an event you won't want to miss. Friday night at dusk is a free light show on Main Street.  Wander among semi trucks lit with a multitude of lights and find out about "chicken lights".  On Saturday head out to the fairgrounds and see the new, working, and antique trucks beautifully cleaned and with chrome gleaming.  Visit with the drivers and enjoy concessions, vendors, and inflatables for the kids.  Awards at 4:00 pm.  Vendor and Registration form
here.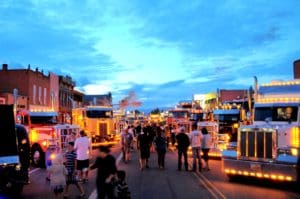 Panguitch Invitational Rodeo and Pioneer Day Celebration
There is nothing better than a small town Pioneer Day celebration in Utah and Panguitch offers the perfect setting for celebrating in true small town style! Start with the
Panguitch Invitational High School Rodeo
(contestant entry form here
) July 20-22, 2023, and watch as high school students compete in bull riding, barrel racing, steer wrestling, roping, and more. Rodeo finals are on Saturday night!
Bryce ATV Rally
There's no better place for an ATV adventure than right outside of Panguitch on the many ATV trails that border the famous Bryce Canyon National Park. Known for being among the top ten most scenic trails in the entire country, there's no better place to spend hours of ATV riding. Late August hosts hundreds of avid riders who come for food, entertainment and ATV-ing with the whole family with several days' worth of activities and riding trails set up for making the most of the terrain and scenery.  Bryce ATV Rally will be held August 15th-19th, 2023. For more information visit
brycerally.org
.
Crusin' Old 89 Car Show
The
Cruisin' Old 89 Car Show
 September 1st-2nd, 2023!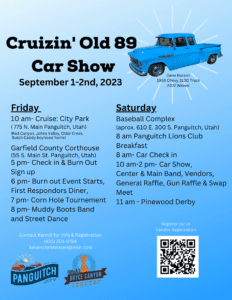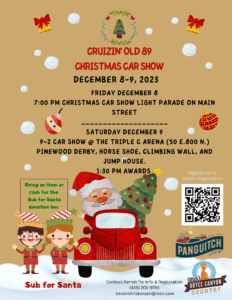 2023 Panguitch Event Calendar  (pdf file)
Activities
ATV Trails
Panguitch is the center for miles and miles of ATV trails of all kinds.  Rent a vehicle or bring your own and enjoy days of exploring beautiful Southern Utah on an ATV.

Historic Tour
Visitors to Panguitch, Utah will enjoy the opportunity to view many of the historic structures in this community which was settled by Mormon pioneers.
Famously creative survival skills are not the only heritage the early settlers left behind. Using horse-drawn wagons, iron rich clay, and wood, these innovators fired a kiln to make bricks. Operating on a trade-based economy, workers were then paid in brick rather than money. This lucrative exchange provided families with the material to build brick homes, and eventually allowed residents the proper commerce to establish a local brick factory.
Influenced by both English and Dutch designs, early architecture in Panguitch uniquely expresses the diverse culture of early settlers, and many of the original homes are still standing, shyly spreading their hand-crafted, artisan charm throughout the historic southern town.
Main Street plays host to string of famous brick houses, one in particular was occupied by sheriff, James W. Pace. Local legend tells of federal agents spilling into town under the cover of night to hunt local polygamists. In an attempt to warn residents of their coming, Hanna Pace, the sheriff's wife, would light a lamp and set it in the window, signaling all the men in the neighborhood to go into hiding.
Log cabin and wood homes also make their appearance on the Wild West streets of Panguitch. Preserved and protected by the local community, tourists can visit the Alexander cabin at the city park on the north entrance of town. This historic tribute to the city's pioneers was built in 1890 by Thomas Murphy Alexander, and restored as a Utah Centennial Project by the Panguitch Heritage Foundation. The cabin contains artifacts that give visitors a glimpse into the lifestyle of early pioneers.
Historic Panguitch Walking Tour (PDF file)
Historic Red Brick Homes in Panguitch (PDF file)
 The Quilt Walk Story
In 1863 a community called Fairview was initially established approximately 20 miles northwest of what is now Bryce Canyon National Park.  The valley for the community, now called Panguitch, sits at an elevation of 6,600 feet and resulting cooler year-round temperatures made this area a more difficult place to produce good crops.  Deep snow came very early in the second winter of Fairview's existence, and the residents were faced with wheat that had not matured and was therefore difficult to grind.  The people tried boiling the wheat, but it was still not very edible.  Members of the community fished and hunted, but they were competing with the Indians for available meat.
Leaders discussed their lack of food and decided that they would send out two groups to acquire supplies from other communities.  One party headed north toward Gunnison, 110 miles away, but on a series of trails where they anticipated they would find less snow.  The other group ventured west over a high mountain pass toward the community of Parowan, a distance of about 45 miles.  The Gunnison bound party found their passage blocked by snow and returned almost immediately, leaving all hopes on the seven men bound for Parowan.  Traveling initially by wagon, the Parowan party made good progress on the first stage of their journey, but the snow gradually deepened.  At a mountain pass it became apparent that they would have to finish the mountain crossing on foot.  The men made little progress as their legs plunged into the deep drifts of snow.  With little hope of progressing, the men laid a quilt on the snow on which they knelt to pray for guidance and assistance.
As the men prayed, they realized that the quilt on which they knelt was supporting their weight on the snow.  This began a process of laying one blanket after another for the men to walk across the mountain. Eventually the men reached Parowan where they acquired as many sacks of flour as they could carry.  Parowan settlers assisted the group as far back up the mountain as was possible, but soon the men  were again walking on their quilts while now carrying heavy sacks of flour.  An expedition that is estimated to have taken as much as fourteen days finally brought the men back to Fairview where they were received with great celebration.  Due to a subsequent conflict with Native Americans of the region, many communities, including Fairview, were evacuated for several years.   Upon return to the area in 1871, the name of the community was changed to Panguitch.