2023 Panguitch Ice Fishing Derby
Enjoy a days of ice fishing fun at Panguitch Lake! Fishing starts at 6 am Saturday February 4, 2023 and goes to 3:00 PM. Then you bring your biggest fish (only one) to the Two Sunsets Hotel 50 N. Main St. in Panguitch from 3:00 PM- 4:30 PM for weight-in's. Only rainbow trout will be allowed!! Registration ends at midnight January 30, 2023. Our Sponsor, Two Sunset Hotel is also doing a discounted room rate for anyone doing the fishing derby that weekend.
Prizes will be awarded at 5:00 PM.
Youth competition will receive $250 for the heaviest and $250 for the longest.
Adult competition will receive $750 for the heaviest and $750 for the longest.
Team competition ( 5 person) will win $750 for the heaviest combined catch
New Award $750 Luckiest Fisherman Award- Everyone will be entered into a random drawing for $750 cash prize just for coming our fishing our lake.
Questions please call:
Karma Albrecht 435-690-0783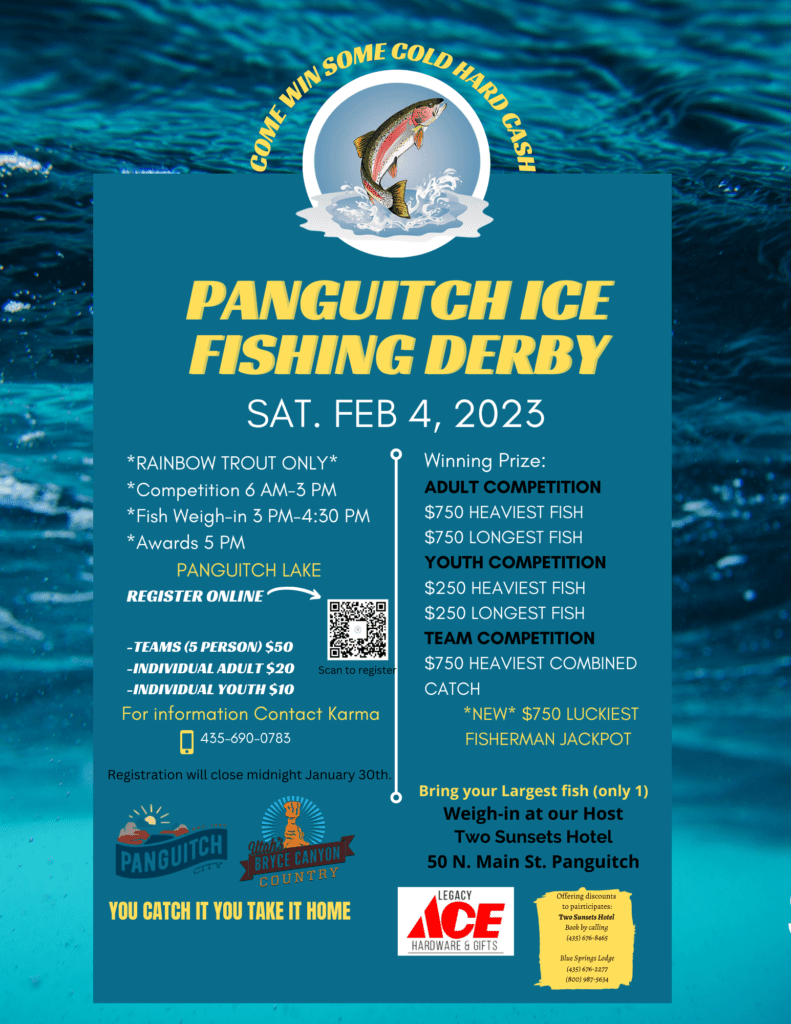 2022 Winners
Adult Individual:
Weight 3.226 Lbs.
Kolby Taylor
Length: 3 way tie for 19 inches
Hudson Forsyth
Kolby Taylor
Justin Crandall
Youth
Wright: 1.8 Lbs
Bryker Jackson 
Length: 18 1/4 inches
Bryker Jackson
Group
Total Group Weight: 10.9 lbs.
Eager Beavers