Panguitch Valley Balloon Rally
When:
June 28, 2013 – July 1, 2013
all-day
Contact:
Panguitch Main Street
435-590-2892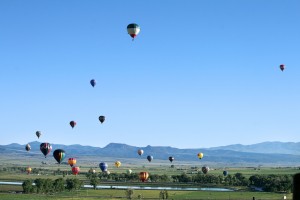 Founded in 2000, the Panguitch Valley Balloon Rally has been providing fun and excitement to people of all ages every year for fourteen years running on the last (full weekend) of June.

Join us for our 2013 festival June 28 – 30 in Panguitch, Utah and bring your whole family!  This event truly has something fun for everyone.  See our schedule of events for more detailed information.  Have you ever wanted to fly in a hot air balloon?  Come out to the launch field every morning at 6:30 a.m. and help pilots launch their hot air balloons and you just might be asked to go for a ride! Visit Panguitch's Historic Downtown on Saturday evening at dusk and witness the awe-inspiring spectacle of balloons glowing up and down Main and Center Streets. Get there early and help pilots inflate their balloons! Children are welcome to help pilots weigh down the balloon baskets. New for this year – National Anthem Contest. The contest winner will sing for the opening ceremony for the Tour of Utah on August 7th in Panguitch (contestants must live in Garfield County).