Temporary activities and events do not delete
Panguitch Valley Balloon Rally and 5 K Race
Enjoy the seemingly endless Southern Utah skiesby taking advantage of the Panguitch Valley Balloon Rally during the last full weekend in June in Panguitch.  Hundreds gather to enjoy an unforgettable scene of colorful hot air balloons as they soar into the open skies above.  Saturday night is a balloon glow on Panguitch's historic Main Street.  In conjunction with the ever popular balloon rally is the Panguitch Valley Balloon Rally 5K Race. Saturday morning as colorful hot air balloons rise above, runners can enjoy the views below during near-perfect Panguitch weather. A kid's race is offered afterwards so that everyone can join in on the fun!
Held on July 6 & 7, 2018, the Panguitch Chicken Lights and Chrome Truck Show is an event you won't want to miss.  Friday night at dusk is a free light show on Main Street.  Wander among semi trucks lit with a multitude of lights and find out about "chicken lights".  On Saturday head out to the fairgrounds and see the new, working, and antique trucks beautifully cleaned and with chrome gleaming.  Visit with the drivers and enjoy concessions, vendors, and inflatables for the kids.  Awards at 4:00 pm.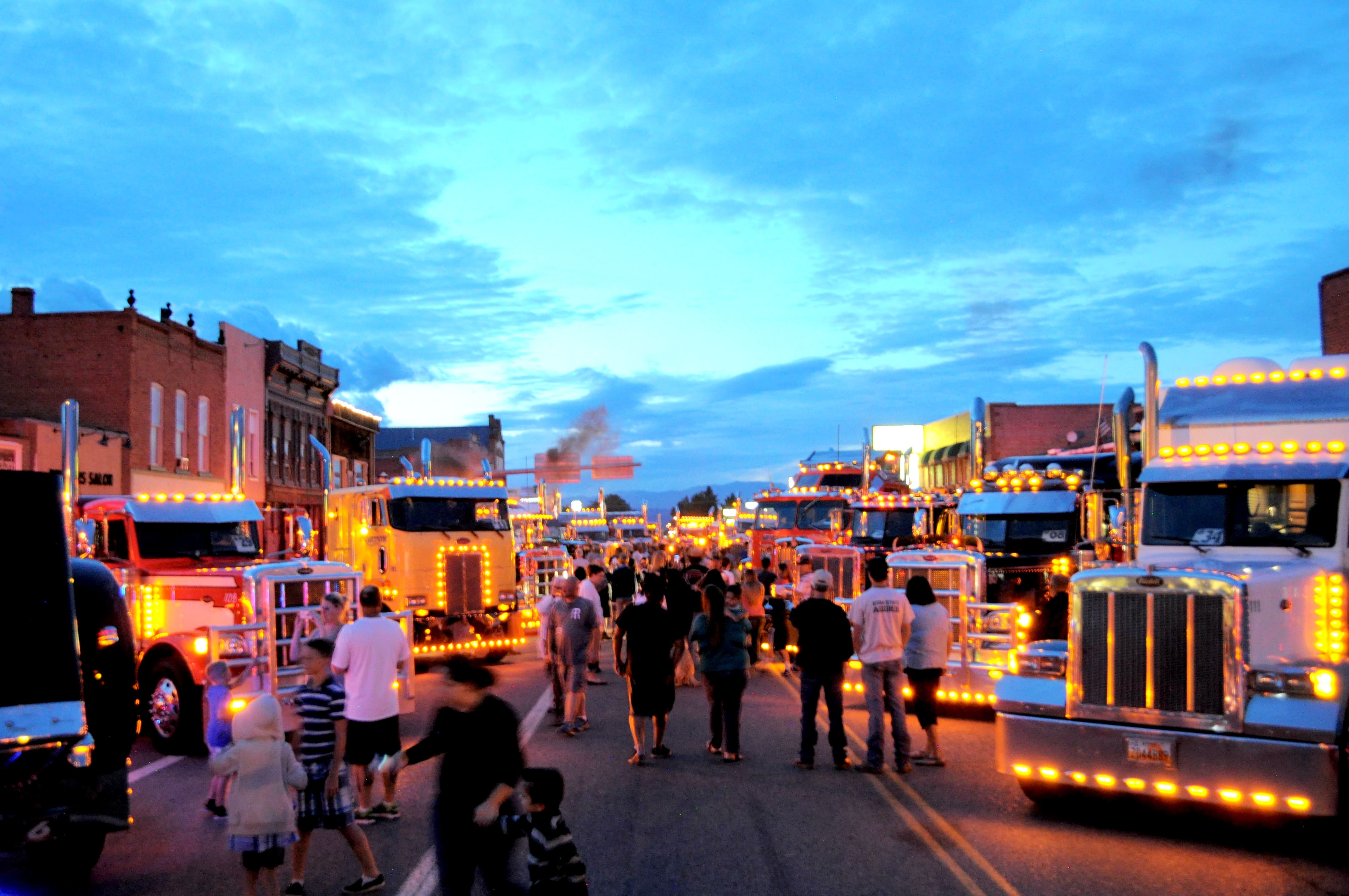 Those who are serious about attending a real rodeo know that the Panguitch Invitational High School Rodeo is among the very best. The rodeo is held July 19-21, 2018, and hosts contestants from over forty states and Canada. Watch as high school students compete in bull riding, barrel racing, steer wrestling, roping, and more.  An evening you won't want to miss!  Contestant registration form here.

Pioneer Day Celebration

There is nothing better than a small town Pioneer Day celebration in Utah and Panguitch offers the perfect setting for celebrating in true small town style! From barbeques and Main Street parades to games for the kids, Panguitch is the place to be for families. Those who wish to hit the nearby roads can enjoy all day ATV riding, horseback adventures, hiking, and fishing at Panguitch Lake. Enjoy a campfire in the evening under the stars or attend the Invitational High School Rodeo!

Garfield County Fair

The Garfield County Fair is an annual event in late August and is one of the most anticipated events of the year. For nearly 75 years, the Garfield County Fair has provided every event that any real fair could possibly host from live bands to parades, classic car shows, mouth watering BBQ, livestock sales, rodeos, stunt shows, face painting, petting zoos, dancers, a merchant village, gun aficionados tents and much more! The Garfield County Fair is a week-long event providing full days and evenings of endless entertainment for visitors looking to make the most of their summer.

Bryce ATV Rally

There's no better place for an ATV adventure than right outside of Panguitch on the many ATV trails that border the famous Bryce Canyon National Park. Known for being among the top ten most scenic trails in the entire country, there's no better place to spend hours of ATV riding. Late August hosts hundreds of avid riders who come for food, entertainment and ATV-ing with the whole family with several days' worth of activities and riding trails set up for making the most of the terrain and scenery.  For more information visit brycerally.org.

Panguitch Lake Big Fish Derby

What's even more fun than fishing?  Ice fishing!!   Get out on the ice  at the Panguitch Lake Big Fish Derby and see who can catch the biggest Panguitch Lake fish–points are awarded for weight and length.  There are adult and youth (11 and under) divisions for fish caught between December and February.  Cost is $20 to participate and cash prizes are awarded in six categories.  Dust off those ice fishing poles and join the fun!

New Year's Eve

Panguitch, Utah might not be the first place that comes to mind when considering New Year's Eve celebrations, but maybe it should be! Enjoy a true sense of community without having to stand in over-crowded streets and celebrate with local bands, great food and games in a safe and fun environment free from chaos.
[cforms name="Panguitch Invitational Registration"]