Recreation – Panguitch Social Hall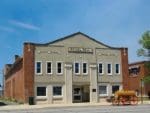 Business Name:
Recreation – Panguitch Social Hall
Long Business Description:
Located at 50 E Center Street, the Panguitch Social Hall is rich in local history and on the National Register of Historic Places. Constructed about the time that Utah was admitted into the Union in 1896, the Panguitch Social Hall, originally called Mascot Hall, has been of great significance to the community serving a variety of purposes over the years. Dances were held on Fridays and holidays. Mothers would bring their best carpet from home to dance on.  This was during the time that baby buggies were quite in fashion, so babies were put in their buggies to sleep while everyone danced. Today the Social Hall is used for a variety of purposes, from plays, dancing, and gymnastics, to wedding receptions, family gatherings, and birthday parties.
The Social Hall is available for reservations by calling the Panguitch City Office at 435-676-8585