Fishing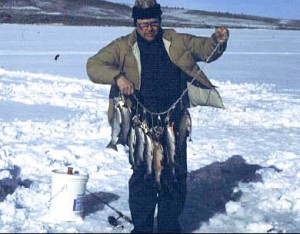 Panguitch offers a multitude of rivers and creeks just outside of town for visitors that are interested in enjoying some truly fine fishing opportunities. No matter the season, there are options for every type of fishing including trout fishing in the many waterways and reservoirs , including Panguitch Lake.
Some would suggest that the winter season is the best time for fishing in Panguitch as the lakes freeze over and fishermen who enjoy a frostier atmosphere can gather along the Otter Creek Reservoir, Panguitch Lake, Lake Powell or Wide Hollow Reservoir among many others! Fishing licenses can be obtained from various local businesses in Panguitch along with helpful maps and local advice for where to find the best fishing spots.
An ice fishing derby is held at Panguitch Lake from the beginning of January until the end of February.  Win cash prizes for the largest fish in various categories.  Grand prize for catching a tagged fish is an ice fishing package.  Only $20 to enter.